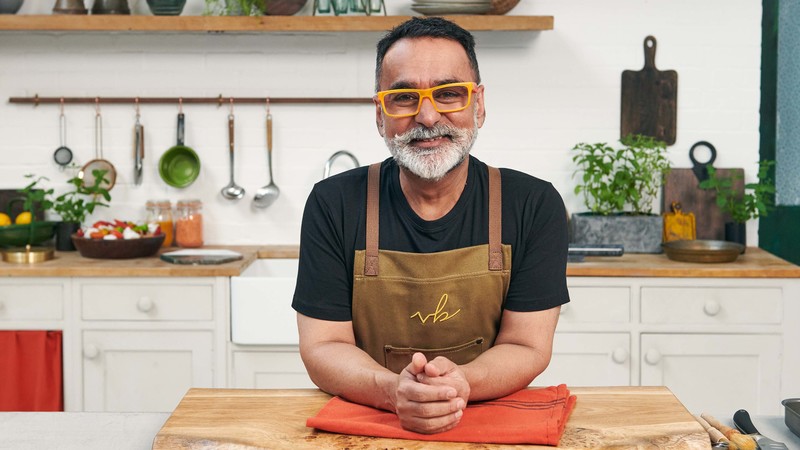 Vineet
Bhatia
Modern Indian Cooking
India's first Michelin starred chef, Vineet Bhatia, teaches the fundamentals of modern Indian cooking in 30 easy to follow lessons. Join Vineet on a culinary journey across the streets of India as you learn how to cook authentic Indian food.
30 lessons, 14 hrs
Course notes
One off payment, lifetime access

Watch on any device

For all experience levels
The Course
Join Vineet Bhatia as he takes you through 30 easy to follow lessons that will transform your approach to Indian food. With his modern take on the cuisine, this comprehensive course will teach you how to elevate the classics, as well as learn key techniques to help you build spice profiles, master the use of oils and cook the perfect rice. All his recipes are broken down into simple steps in the course notes, and you can follow each lesson at your own pace. As the world's leading authority on contemporary Indian cooking, Vineet's course is not to be missed.
Your Maestro
Vineet Bhatia is a pioneer of progressive Indian cooking. In his 30 year career he's run over 20 restaurants, was the very first Indian chef to receive a Michelin star and has now picked up 4. The go to authority on contemporary Indian cooking, he has built his extraordinary reputation on innovative flavour combinations, delicate spicing and all-round creativity. And now he's ready to teach you his secrets.
Lessons
45 mins

There is so much misunderstanding around the spices needed to make Indian food. You do not need an entire supermarket aisle of spices to create delicious flavours. The truth is far simpler.

12 mins

Do not even attempt to cook Indian food without this recipe. Do not light your hob, do not unpack your crockery until you have made ginger and garlic pastes.

26 mins

Two of the building blocks of Indian cooking. Working with pastes can elevate classics to new heights.

10 mins

So simple, so tasty and so fundamentally important to many Indian dishes. This chutney adds the final touch of class to almost any dish.

26 mins

A tomato sauce with depth you can't get in a bottle. It might just become your absolute favourite.

16 mins

Raita is so much more than lazily mixed together yoghurt and grated cucumbers. Made properly it is a dish that complements and cools many other dishes.

13 mins

Bright and zingy in colour and bright and zingy in flavour. This shows a different side to Indian cooking.

26 mins

Potatoes are loved in India almost as much as in England. But don't stop at roasting and mashing, go with spice and heat.

28 mins

A dish that is all about celebrating the flavour, shape and texture of the humble broccoli. You will not look at it in the same way again.

12 mins

This just shows the variety of food that India produces, it is a dish that cooks in minutes without compromising on flavour or texture.

37 mins

A vegetarian stew of such bold flavours and textures, you will not miss the meat at all.

29 mins

There are few dishes more comforting than a dal. On it's own, or served with bread, it is the culinary equivalent of sinking into a comfy sofa.

29 mins

Banana leaf cooking is the perfect combination of beauty and practicality. It looks and tastes equally stunning.

28 mins

One of the country's absolute favourite dishes. A classic blend of spices and yoghurts wrapped around tender chicken and finished in a hot oven.

43 mins

Mustard is grown all over India so it is natural for it to appear in some guise in many dishes, but it is very rare to see it like this, as the star of the show.

36 mins

Straight from the Punjab where the people like their food full of flavour and bite.

31 mins

So much flavour in such a simple-to-make stew. Once you have learned the basics of this dish, it can be adapted to suit almost any type of seafood.

30 mins

The absolute benchmark dish. This is Vineet's version which he has been cooking and refining for many years.

29 mins

Kormas are loved around the world because of their richness. Although Korma is rich and creamy, it does not need to be mild.

21 mins

Onion bhajis as they should be - crisp and full of flavour.

55 mins

These Tikkis are evocative of walking the streets as child. The smell and flavour have inspired Vineet all the way through his life as a chef.

20 mins

The absolute tastiest omelette that you have never tried. This is your new favourite and Vineet will take you through each step.

27 mins

Fish wrapped perfectly in a crisp, spiced batter. A versatile dish, it's perfect as a side dish, a main dish, or even a dessert.

31 mins

Spiced up lamb mince and peas. There are few simpler, yet delicious dishes that exist anywhere in the world.

27 mins

The only secret to cooking a quality rice dish is to have a quality recipe. Look no further than this.

73 mins

There are few dishes out there that say, "I love you" so clearly. It takes time, effort and heart to build a proper Biriyani. Only cook this for those who truly deserve it.

28 mins

Fluffy white bread rolls at their satisfying best. Perfect stuffed with ingredients to make a sandwich, or even better, used to mop up the sauce at the end of a meal.

31 mins

The delicious vehicle on which other dishes so often ride. Soft bread that retains a satisfying chewiness, all without having to build a Tandoor in your kitchen.

14 mins

India grows some of the world's finest mangoes - learn how to use them to make one of the world's finest drinks.

37 mins

So much more than an afterthought on a takeaway menu. Made properly, Kulfi is a deliciously smooth, egg-free ice cream.

Course notes
106 pages
A downloadable PDF packed with course learnings, chef's notes and easy-to-follow recipes.

What people are saying
Simple achievable recipes.

- Linda Stratigou
I'm learning a lot from Vineet, he passes on brilliant knowledge.

- Marcus Evans
Super course, loved every minute. He should do more.

- Lynda Rowlinson
I like the detailed explanations - taking the mystique out of spices - just what I was looking for.

- Anita Cleaver
Vineet is an excellent teacher.

- Anon
The recipes are of a very high standard and the techniques are explained clearly

- Steve Potter
Ready to start cooking?
Learn how to make spectacular modern Indian dishes with India's first Michelin starred chef.
30 lessons, 14 hrs
Course notes
Buy Course
Get a free lesson
Sign up for a free lesson and learn to make the perfect onion bhaji.
Common questions
At BBC Maestro, we want to educate and inspire people to explore their creativity with online courses taught by experts. We've curated top talents in various fields, who deliver video courses to teach you everything you need to know to follow in their footsteps.
BBC Maestro is currently available in the following territories: United Kingdom, Isle of Mann, Ireland, Jersey, Guernsey, Australia, South Africa, Canada, India, Brazil, Italy, Netherlands, Spain, Germany, Belgium, Switzerland, Portugal, Singapore and USA. We are planning on launching BBC Maestro in other territories in the future. Please subscribe to our mailing list and follow our social media channels for updates.
BBC Maestro does not currently offer a subscription service. Each individual course can be bought with a one-off payment.
Yes, all our courses have English subtitles that can be accessed by clicking the CC button on the video player. We also have downloadable PDF course notes in English to accompany each course, which offer more detailed information and tips. We do not currently offer subtitles in any other languages.