Steve
Mann
Dog Training
Top celebrity dog trainer and author of UK #1 best-selling dog books imparts 30 years of expertise in this practical course for you and your four-legged friend.

30 video lessons
Course notes
Self-paced, no deadline

Watch on any device

For all ages and breeds
The Course
Steve will take you through puppy training, loose-lead walking, grooming, separation anxiety, the power of play, recall, emergency stops and more. He'll even dig into breed-specific behaviours, our responsibility as dog owners and how to read your dog's body language. This easy-to-follow guide will show you the best way to motivate your dog, whether it's a terrier puppy, a rescue retriever, or an older hound. It's never too late to train your dog, build invaluable trust and create a rewarding relationship for you and your dog. Steve will show you how.
Thanks for signing up
Check your inbox - your free lesson is on the way!
Oops! Something went wrong
Please try again later
Get started with a free video lesson
How to master 'sit' with expert dog trainer, Steve Mann
Your Maestro
As a boy, Steve walked into a local dog training class… with no dog. By 16 he'd launched his own dog training school. Now, with over 30 years' experience, Steve's books have become the UK's number one dog training manuals. He has trained more than 100,000 dogs all over the world – in TV and film, for high-profile celebrities as well as dogs that support veterans with PTSD. Steve trains tracking dogs, security dogs as well as dogs that have suffered all manner of trauma. Steve lectures in animal behaviour and husbandry and is one of the most respected and knowledgeable dog trainers in the world.
Lessons
2 mins

Steve introduces his style of training and the areas you'll be working on with your dog.

5 mins

Hear about Steve's teenage beginnings and his passion for making dogs and their owners happier.

4 mins

Learn to guide your dog's natural instincts so they play in a way that you're both happy with.

10 mins

Connect with your dog through eye contact and further training will be so much easier.

8 mins

Discover when to invest in quality kit and when a simple tea towel will do the job.

5 mins

Understand your responsibilities as a dog owner - to your dog, other dogs and society as a whole.

8 mins

How to use eye contact to slow your dog down and prevent them pulling on the lead.

9 mins

A basic but helpful move that can encourage other, more involved commands.

9 mins

How to prevent visitors getting their clothes covered in enthusiastic muddy paw prints!

12 mins

How to successfully shape your dog's behaviour using positive reinforcement.

7 mins

Steve teaches control and management, learning through association and consequences.

6 mins

Meet Elsie the puppy, who Steve will be training throughout the course.

4 mins

We all have to 'go'. Steve's technique shows them where and when you'd like them to.

5 mins

Learn how to deal with puppy biting and how to make sure they chew the right things!

4 mins

How to introduce your puppy to environments, people and other animals early on.

9 mins

Learn how grooming can become a fun bonding activity for you and your dog.

16 mins

Play and training can be one and the same – play is your dog's top priority and should be yours too.

9 mins

Train your dog to come when you call. This is the secret to a happy life as a dog parent!

9 mins

Stop your dog in its tracks – for any reason – with this vital training tip. It could save their life.

7 mins

Learn this great exercise to help with inspections, grooming and more...

7 mins

Discover how dogs experience the world through their nose and how it helps build relationships.

8 mins

How to work with your dog at a distance while maintaining your influence.

5 mins

It might sound silly, but this is a handy exercise you will probably end up using a lot.

8 mins

Warm up your dog before exercise with this little trick – particularly useful for larger breeds.

17 mins

How an exercise called the rucksack walk strengthens the bond between you and your dog.

20 mins

Learn to read your dog's body language by looking at their ears, eyes, tail and vocalisation.

6 mins

Recognise the signs of separation anxiety and learn techniques for overcoming the issue.

6 mins

Learn about mental exercise, release and stimulation that adds so much to your dog's well-being.

2 mins

Training is a work in progress – don't rush it. Enjoy the process and your time together.

15 mins

Steve answers the Top 10 questions he commonly faces from dog owners.
Start learning today
Change or cancel your subscription at any time
Learn without limits on your computer, phone or tablet
Download course notes and exercises to learn at your own pace
Change or cancel your subscription at any time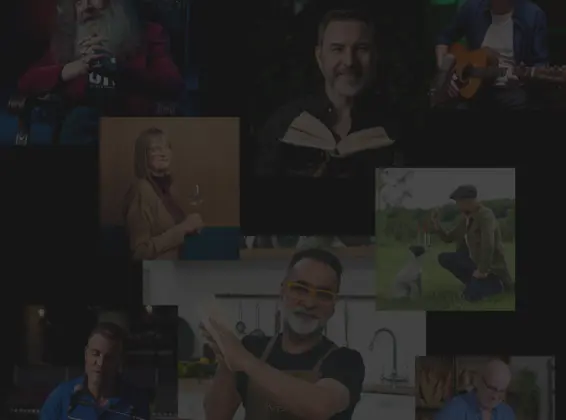 Annual access
10-days free then $10 / month
(Billed annually as $120)
---
Discover new passions with access to every BBC Maestro course
Enjoy over 100 hours of video lessons every year
Explore all brand new courses added throughout the year
Receive discounted rates to purchase your favourite courses to own for life
Start 10-day free trial

Course notes
83 pages
A downloadable PDF packed with course learnings, training tips and exercises to practice with your dog.

What people are saying
Great training ideas - we keep going back to the different sections to brush up on the way to train our dog.

- Vaughan Allcock
Steve's ability to explain a dog's point of view and instruct in a way that I can relate to. Everything is clear, concise and easy to take away and use.

- Karen Head
Amazing, I bought this last week and have it forever to go back to...who needs stressful puppy training classes when all you need is to gain trust and learn your dog's language and behaviours. My puppy has come on leaps and bounds and loose lead walks perfectly now...just gotta keep working on the recall.

- Rebecca Adams
Course is amazing. The different chapters enable me to go into the sessions I need to re visit in more detail when the puppy arrives. Steve uses amazing techniques and shows you how to train your dogs using all different types of breeds so it reinforces learning. Best thing I've purchased to enable me to give my puppy the best start in life. Thank you Steve. I now feel so much more confident.

- Mrs Thomas
I've tried it with my new puppy and she responds extremely well to all the course guidance, I can't recommend it highly enough, it's a master class. Very happy with the results and they are far quicker than I could ever have imagined.

- Tony Meeke
The lessons are clear and simple. I love his approach to dogs as your best friend. I love seeing the lessons in action. Learn quicker by seeing an example than reading. Besides all that it's entertaining to watch!

- Tanja
I adored the course and continue to reap the benefits from Steve Mann's simple, clear and wonderfully positive dog training course.

- Melissa F
Quality content delivered by expert speaker.

- S Jaeger
Steve explains how dogs learn in an easy to understand manner and so far, following his training advice I'm getting positive results with my 3 month old puppy.

- Vanessa
Informative, good instruction and positive training. Breakdown of training into short videos is great too, to practice and pick up again.

- Sandra F
Common questions
BBC Maestro is a subscription-based streaming platform, created to educate and inspire people to explore their creativity. Through pre-recorded lessons and detailed course notes, anyone can learn a wide range of disciplines and follow in the footsteps of experts respected all over the world. BBC Maestro offers single course purchases or an annual subscription.
Everything. Access to all courses, course notes, the BBC Maestro app, and the ability to download courses to watch on the go.
You'll need to provide an email address, password, and bank card details to create an account, but no payment will be taken until the trial has ended. A trial lasts 10 days from the point of sign up. After 10 days, we will automatically take a payment of $120 to start your annual subscription. You can cancel your trial at anytime in your account settings. You'll have access to easy-to-follow video lessons. Watch on your computer, tablet or mobile and learn on demand, wherever and whenever you like. Our courses are beginner-friendly and you can watch as many times as you like, at your own pace. Terms for the free trial can be found here: https://www.bbcmaestro.com/freetrial-terms
You can buy an annual subscription to get full access to all BBC Maestro courses, lessons and course notes for one year. You can enjoy over 100 hours of video lessons and your own pace and watch as many times as you like. You'll also have access to any new courses added throughout the year.
Yes, all our courses have English subtitles that can be accessed by clicking the CC button on the video player. We also have downloadable PDF course notes to go with each course, which offer more detailed information and tips.
No, all our courses are self-paced and no courses will be removed from the site or 'expire'. If you have an all-access annual subscription, you can watch any content while your subscription is valid. If you don't have an all-access subscription, but instead have bought one or more individual courses, the purchased content is yours to keep for life, and lessons can be watched as many times as you like.
Subscribers will have instant access to new courses as they are released. Please note that any courses in the Upcoming Courses section may be released outside of your annual subscription period. If you have any questions about an upcoming course, please email [email protected].
We offer a 14-day money back guarantee for your first all-access annual subscription, if you aren't completely satisfied with your purchase. See our terms and conditions for details, or email [email protected].
Thanks for signing up
Check your inbox - your free lesson is on the way!
Oops! Something went wrong
Please try again later
Get started with a free video lesson
How to master 'sit' with expert dog trainer, Steve Mann