What is portrait photography?
By BBC Maestro
Last updated: 18 April 2023
The human face has long enchanted the eyes and hearts of photographers. Whether it's one person in front of the lens or a group of people behind it, there's a knack to taking a portrait photograph that demands attention.
But what is portrait photography? And how do you take a portfolio-ready portrait? Keep reading to find out.
What is portrait photography?
The genre of portrait photography is all about capturing the personality of the human in front of the lens.
It may be a particular expression or emotion the person conveys, or something unique about their temperament that becomes captivating. Or it may simply be capturing them in a way that feels true (or very different) to how they present themselves every day. Whatever it is, a good portrait is one that evokes something in its viewer – it makes them feel or think something new or different.
Portrait photography is a craft that has built the praise of the art, fashion, and media worlds over time. People have been practising portrait photography since the 1800s – around the time photography was invented. In the earlier days, it was used mainly for documentation purposes but soon became a tool for creative expression.
In the early 1900s, it became popular with the help of Alfred Stieglitz and Edward S. Curtis in the wave of modernism. And since, photographers like Annie Leibovitz, Richard Avedon and Diane Arbus have continued to triumph its name in the art and fashion world.
Different types of portrait photography
Each portrait photographer has their own method they follow when making their work. Whether it's posed portraits, candid portraits or black-and-white portraits, there are different approaches they will follow to get their ultimate shot.
In posed portraiture, the photographer will create a composition (organise and arrange the visual elements in their frame of shot). This may be done simply by using studio lights and adjusting the camera settings to strike the right balance.
It may be conducted in front of a studio wall or backdrop (think anything from magazine covers to corporate LinkedIn photos). Or instead, they may prefer to take the subject into a natural environment and use natural light instead.
Other photographers may prefer to be a little more conceptual or creative. Imagine the portraits in fashion magazines or other creative media in this case. Conceptual portraits produce photographs that are arguably a little more artistic (visually compelling or thought-provoking) and speak to a wider theme or motif. The photographer may be working to a commercial brief, as supplied by a talent agency, manager, or brand, or they may be working from their own creative idea.
Sometimes though, a photographer may simply want to capture more authenticity in their model. You may hear this being referred to as 'more natural' or 'raw'. In this case, they may choose a candid portrait – where the model is unaware there is a camera on them, or that their photo is being taken at that exact moment.
5 tips for taking a good portrait
But how do you take a good portrait photograph? We've rounded up a few good tips to get you one step closer to that professional portfolio.
1. Create a brief
Not every portrait shoot requires a lot of preparation. Some of the best portraits can come from impromptu moments in the park with a friend. But if you're working with a particular model or a crew, it's a good idea to produce a brief to help ground your creative vision so everyone knows what you're planning to achieve.
A creative brief can include anything from inspiring visuals to on-the-day logistics. You can share mood-board-esque images, showcasing some of the themes, tones and moods you want your work to portray or even examples of your other work. You can also include more practical details too, like the setting and location details. These can be set in stone, or simply a list of ideas of places you might want to conduct the shoot.
If you're working for a brand, it's worth getting as much detail as possible from them. You'll want to suss out everything from budgets to the type of shots they need you to get (close-ups, head and shoulders or full length, for example).
A great photography creative brief hammers home the essence of the shoot. So, try writing a small paragraph that summarises the mood you want your work to emit and the story you want it to tell.
2. Prepare your equipment
Whether it's glamour portraits or lifestyle portraits you're taking, you'll want to prepare the equipment for your shoot, as well as your creative brief.
If you're opting for a studio setting – do you have all the tools to hand? Consider the different lights, cameras, lenses, batteries, tripods and props you might need. If it's outdoors, consider light reflectors, umbrellas, and a hairbrush (in case of tumultuous weather!).
On the art department front, you'll also need to factor in wardrobe and costume changes, hair and makeup and even set design. It depends on the scale of your shoot, but you can never be too prepared. Compiling a trustworthy list can help you foresee any equipment you may need extra help sourcing.
3. Work with your model
To get the best from your model – amateur or professional – you need to make them feel relaxed and confident in your presence. Regardless of however many times they've been on the receiving end of a lens, every time can feel a little different. And for many of us (professional models too), a lens can make us appear uncomfortable and pretty rigid.
A great way to break some of the awkwardness is to treat the model as you would anyone else. Ask them about their day, what they're watching on TV, and if they have any plans after the shoot – bring them away from the lens and into the familiarity of reality.
You can also throw a few test shots out there. Ask them to pose in certain ways to see how comfortable they seem. Ask them if they have a preferred side or profile and work with it. You may find something more interesting about their other side, but the more you explore with them the more you'll discover what makes them feel good.
If it's possible, show them some of the images and see which ones their favourites are. And ask them why. Slowly you'll grasp an idea of what parts of themselves they like and how you can capitalise on that to make them feel more confident.
If your creative brief supports it and you have an extra pair of hands on set with you, you could even throw a few candid shots out there too. Step away from the camera and interact with the model, and whilst you're directing them, have someone else click the shutter.
4. Find your moment
If you're in a controlled setting, you'll find there's plenty of room to play when it comes to capturing the right shot. You can experiment with light levels, movement and shutter speed, and even props to curate the perfect portrait.
In many instances, you'll know when you've got the right conditions to take the winning shot. Your model may be in the flow – following your lead comfortably or taking charge themselves – showcasing something that feels good from behind the lens, even if you can't quite articulate what it is. Keep clicking that shutter in these moments. The more you capture, the better you can direct your model. You'll also have far more freedom in the editing suite later on.
Finding the moment is all about identifying the uniqueness of that person or of that situation and capturing it the second you do. You could be caught in a thunderstorm on the school run home when your child becomes enchanted by the dark and gloomy sky. Or you could simply look over and find your partner gazing lovingly out of the window. Whatever it is in the moment that compels you to pull the camera out, do it. You won't regret it.
5. Keep practising
It's likely that once you've taken a portrait you love, you won't be apart from your lens for long. Keep picking that camera up. The more you get familiar with your camera and its settings – whether you prefer working on auto or manual – the better your photos will be.
With practice, you'll learn how to balance light, colour, textures, and movement to create beautiful compositions for your portrait photographs. As well as getting exposure to working with different models in different settings. Kickstart new projects or take on new ones with others – it's a great way to keep your work fresh.
So there you have it – five tips to take with you on your portrait photography adventure. Whether you're just starting out or you're well-versed in the world of ISO, shutter speed and aperture, keep experimenting with your lens and model, whenever the moment strikes. You never know where it'll take you…
If you're keen to learn more about taking perfect portraits, take a look Rankin's BBC Maestro course.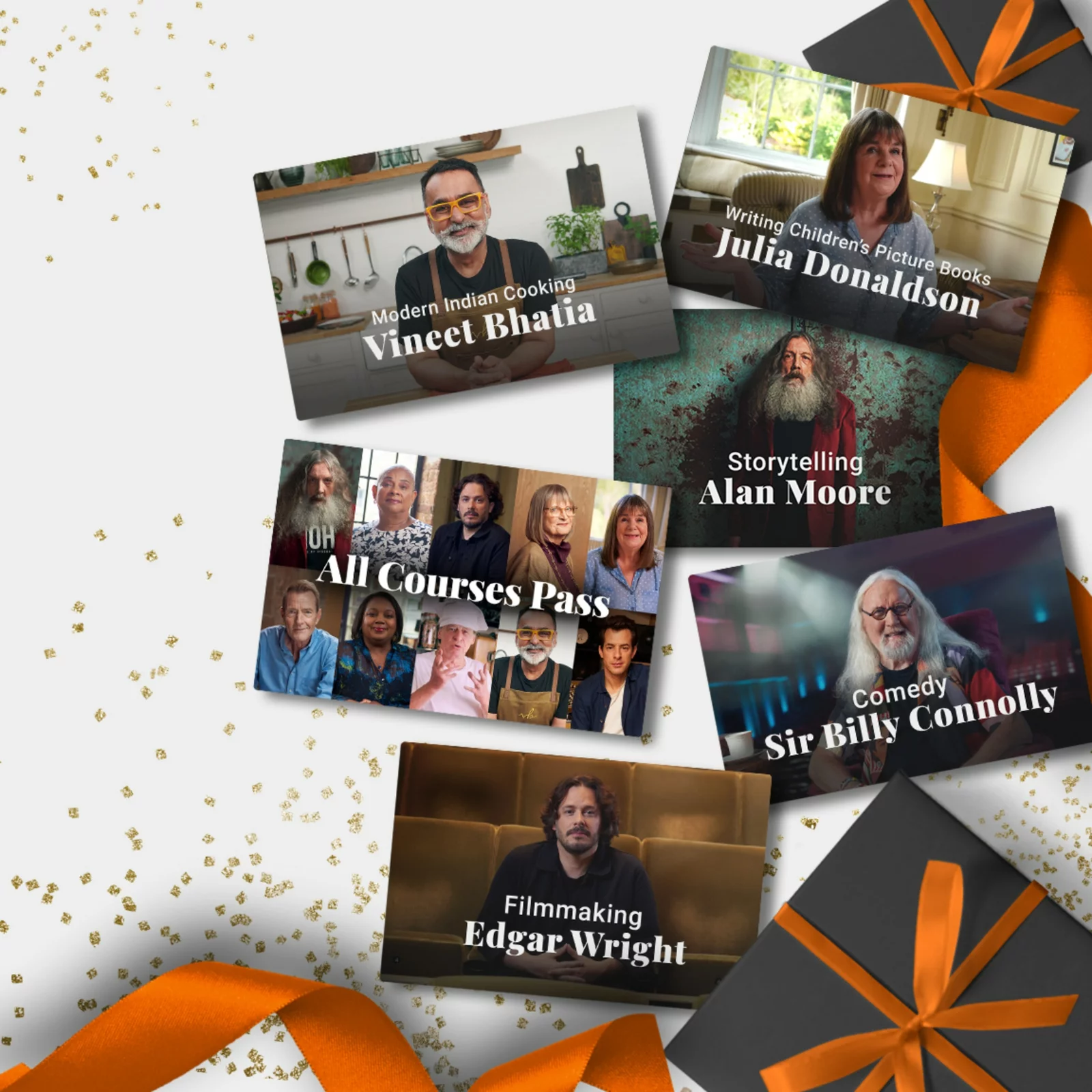 Give the gift of knowledge
Surprise a special someone with a year's access to BBC Maestro or gift them a single course.