How to write a musical
By BBC Maestro
Last updated: 07 June 2023
Writing a musical is, amongst many things, a thrilling creative endeavour. Creating your characters and crafting those toe-tapping hits, all weaved together through a compelling story. What's not to get excited about?
There's a knack to crafting a story that's right for a musical though. So read on to learn how to write a musical that'll win over the hearts of your audience.
What makes a great musical?
There have been so many great musicals that have graced stages from Broadway to the West End – The Phantom of the Opera, The Lion King or Lin Manuel Miranda's Hamilton, to name a few.
But what makes these award-winning musicals so great? They each have an original storyline, compelling characters, powerful songs performed at the well-timed moments and captivating choreography to fill the stage. In short, a great musical requires a whole symphony of different elements coming together. And when it does, it's magic for your audience.
Part of the magic comes from creating a story that resonates with the people watching. It invites them into the world of your characters – where they experience their lives and the events that unfold in them as if they too are part of it.
How to write a musical
It takes great writing to make a successful musical. So let's take a look at a few tips to help you through the writing process.
1. Find your story
Every great musical has a compelling storyline at its heart. Whether it's the heart-wrenching search for redemption in Les Misérables or the ambition and power found in the story of Evita's leading character Eva Peron, an engaging story is key to a great musical.
So how do you find a story? You may already have an idea lingering in the back of your mind, or you may be starting right from scratch. If it's the first, here are two questions to ask of your idea. Is it a story you believe is best told through musical theatre? And what makes your idea stand out from other musicals out there? If you believe it has potential after thinking about these two elements, then it's definitely an idea worth fleshing out further.
If you don't know where to start, take a page out of Sir Tim Rice's book and find inspiration in the stories of other people (Evita or Joseph and the Technicolour Dreamcoat). Perhaps there's a key figure in history or a monumental event that led to a colossal change in the world that you think you could re-tell through the form of musical theatre. Or you can take inspiration from the characters of your favourite books, or people from your own life.
Once you've got your idea, decipher your story's central theme. Perhaps it's a story of a mother and child who were separated and spent years trying to find one another again from different sides of the world. In this case, the central theme might be 'belonging' and it could explore themes of loss, grief, hopelessness, courage, determination or community, for example. This is important, as this exercise can start to give you an indication of what genre your musical might fall into and what genres of music you can take inspiration from.
Then, you can start to identify your primary and secondary characters and begin ideating some of the conflicts and events that may occur to help propel your story.
2. Flesh out your characters
Well-rounded characters are crucial to a great musical. Characters with distinct personalities, differing goals and clashing motives are often the best ingredients for a great musical. Not only are they the vehicle for your story to be told, but they make for a compelling watch too.
Some of the typical story character types are:
The hero - often the protagonist of the story, the hero strives to help others and usually tries to solve a problem. This can see them embark on a quest or an adventure. Some well-known hero characters in musical theatre are Simba, Aladdin and Alexander Hamilton for example.
The lover – a passionate and loyal character, led by their heart rather than their head. Think Marius Pontmercy from Les Misérables or Maria in West Side Story. Note that the lover is not always romantically inclined – they can also resemble platonic or familial love too.
The antagonist – the chief enemy of our protagonist. In many cases, they're also known as the villain. They could be the misfits or outliers of society (Scar from The Lion King) and like all good villains, they often thrive in the misery of others and embody traits of manipulation, deceit and cruelty (Miss Hannigan in Annie).
The mentor – this is someone who guides the protagonist a part of the way on their mission or quest. They are helpful to the protagonist when they need it (The Wizard in Wicked or Rafiki in The Lion King).
The sidekick – this loyal companion remains beside our hero down whatever path they choose to venture. One of the world's most iconic sidekick duo's is Timon and Pumbaa from The Lion King. These two accompany Simba on perhaps the most challenging emotional journey a character could go on. Donkey from Shrek The Musical and Penny Pingleton in Hairspray are other examples of sidekicks from popular musicals.
Once you've identified your leading characters, it gets even more fun. To make convincing characters, you need to understand who they really are yourself. What's their end goal? What motivates them? What deters them?
Working out the answers to some of these will help you get deeper insight into how they can fit into your story, whilst making sure they feel authentic to your audience. This is something to bear in mind when crafting the dialogue for your characters too. It seems obvious, but as you're writing every act, scene or event, ask yourself how would the characters respond to this event? What would they say?
You can also download our character bio template to help you unpack more about your characters.
3. Build a loose structure
Structure and pacing are incredibly important in a musical. You want to keep your audience engaged throughout, which can be hard for a performance that goes on for anywhere between 1.5-3 hours.
So how do you structure a musical? Once you've got a good sense of your characters and story, start plotting your story on a timeline. You can use a digital template or take to your living room wall with a pack of sticky notes.
When do you want to introduce your characters? When do the key events take place in your story? Where does conflict arise? Consider traditional story structures like the three-act structure - where the story is split into three acts – the setup, the confrontation, and the resolution.
Once you start mapping out these, you'll start to see how your story unfolds and progresses at different plot points. You may also spot spaces in the plot ripe for a song, or for an interval pause.
4. Write the songs
A good musical strikes the right balance between dialogue, songs and dance numbers. Let's look at some types of songs you can find in musicals, that can help shape your story and keep your audience engaged.
The opening number – this is usually a high-energy song that establishes the setting, introduces your main character/s and sets the overall tone for the show.
The 'I want' song – usually performed by the protagonist, this type of song expresses their dreams, desires and goals they want to achieve throughout the story ahead.
The love ballad – this is a romantic duet or solo that showcases the blossoming love between two characters. Think of Tim Rice and Elton John's Can You Feel The Love Tonight performed by Simba and Nala in The Lion King.
The villain's song – is similar to an 'I want' song, but this is the moment for our antagonist to shine. It too highlights their desires and goals and may feature witty lyrics along the way.
The apology song – or the 'I'm sorry' song. It's usually performed by a character who's done wrong, acknowledges their mistake and expresses remorse. They use this moment to seek forgiveness.
The showstopper – here's your dance number. This is a big, memorable and typically highly choreographed song. It can sometimes serve as the centre of a musical, showcasing the talent and sheer size of the cast, which usually makes it a particularly memorable performance.
The Finale – there's no better way to round off your story than with a finale song. This can be a powerful and emotionally charged song that occurs right at the end of the show. It resolves the main conflicts, brings the story to its peak and leaves the audience with a lasting impression.
If you've crafted strong characters, you'll find that you'll know exactly what they want to say when it comes to writing their song. To help get you going – start jotting down what your character might be feeling in this moment of the story. What would you say if you were them? Write down whatever springs to mind – single words, sentences and images that spring to mind.
Then try taking a poetic stance. What similes, metaphors and rhyme can you create from the words in front of you? Take a stab at writing a song that does your character's state justice.
5. Call upon collaborators
There comes a time in every big creative endeavour when you'll need to call upon the help of others. Creating a musical is certainly no different, the writing part being just the first hurdle. At some stage you will need to collaborate with musicians, composers, choreographers, actors, producers, directors, press teams… the list goes on. And what you will almost certainly find, is that the story you've written can be made better with the help of these people.
Take the songwriting process for example. You may find a creative partnership like Sir Tim Rice's with Andrew Lloyd Webber works best – where you take the lyrics and you find someone else to handle the musical composition.
Or you may find that the lyrics and melody need to form together, at the same time, over a piano. Tap into local music groups if you're short of help – it can be a great way to find the right people you need to get your work off the ground. If you're able to produce the whole song yourself, go for it.
It's important to embrace the collaborative process wherever you can. You should find that with the right help, you'll be able to build your musical from a story on a page to a story for the stage.
Want to learn more about writing for musical theatre? Take a look at our course, Writing and Performing Musical Theatre with West End legend, Sir Tim Rice.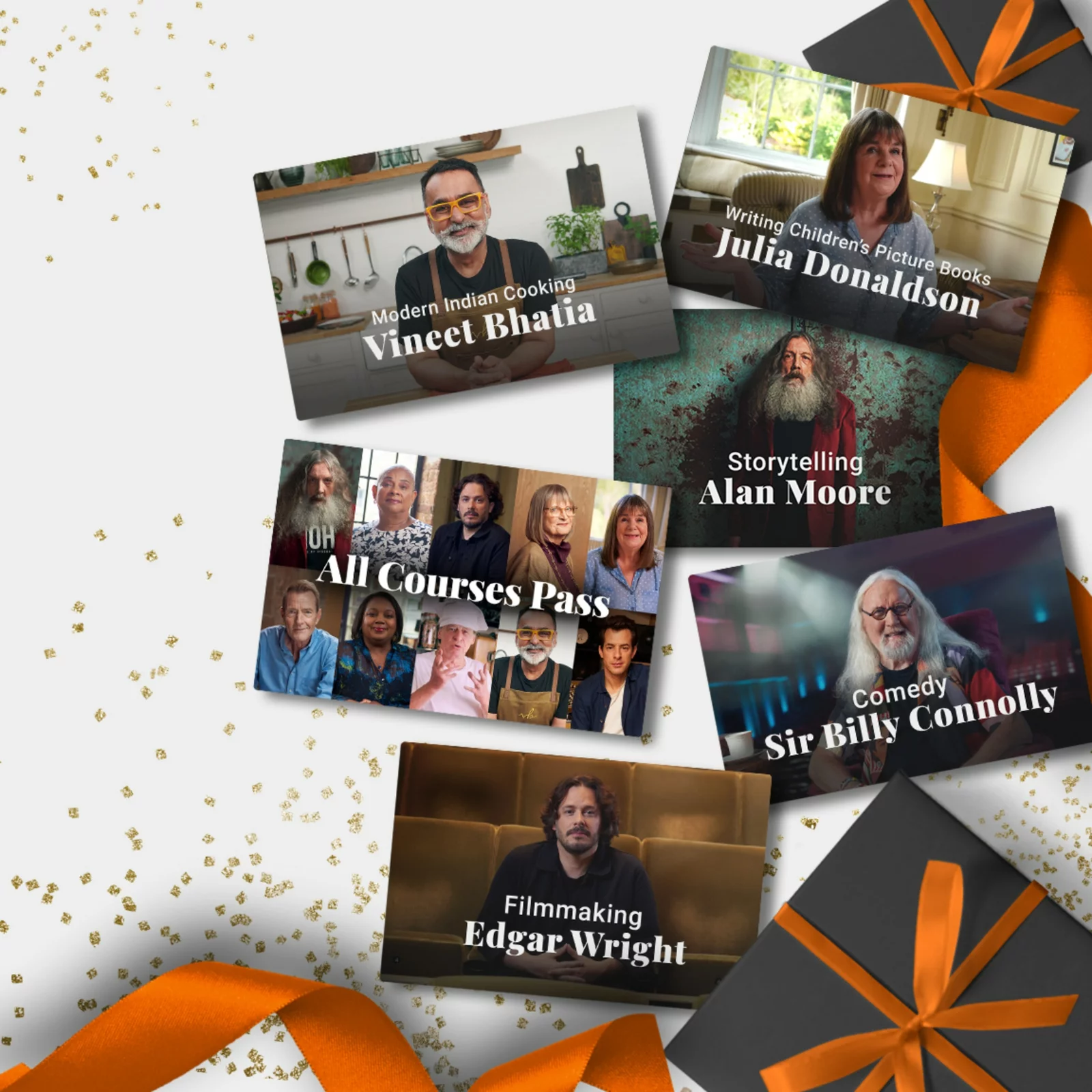 Give the gift of knowledge
Surprise a special someone with a year's access to BBC Maestro or gift them a single course.