How to get into photography
By BBC Maestro
Last updated: 06 June 2023
In an age where it's easier than ever to snap a quick pic that ends up hidden in your camera roll, it can be hard to take photos that cut through the noise. But if an internal voice is forever telling you to "capture the moment" and really learn how to take photos, it's time to listen to it.
Whether becoming a photographer is a future dream of yours, or it's something you just want to get better at in general, read on to discover our tips on how to get into photography.
1. Choose your camera and get to know it
Whether it's the charm of film photos you love or the versatility of a digital camera you prefer, it's important to choose a camera that works for the sort of shots you want to take.
In today's world, plenty of advice exists to help you decide. You can look at discussions on online forums or find a local camera or tech shop near you where a specialist can advise you further. You can also find some great second-hand cameras on online marketplaces like eBay (or equivalent) too.
Once you've chosen your camera, getting familiar with its functions is important.
If it's a film camera, you'll want to get to grips with the camera's ISO, aperture, and shutter speed. The best way to do this with film cameras is to start taking photos using different compositions. Try taking photos in various environments with different subjects – where light is minimal, where it's bright, and when your subject is closer to the camera and further away.
Unlike digital cameras, you'll have to wait until you get your film roll developed to see how they really turn out. But there's lots of guidance out there on how to use these settings in different environments to ensure you get the best shot possible before you see the results. But the agonising wait to see how they come out is half the fun.
If it's a digital camera, like a DSLR camera, it's worth exploring the camera's pre-fixed settings. Some popular options found on many cameras are settings for landscape photography, sports photography, or night photography. These can be useful in the early days when you're working on the camera's automatic settings rather than manual.
Get to know your camera's battery life too and check your memory card's capacity. There's nothing more frustrating than finding the perfect photo opportunity and either of these running out.
If your camera allows for interchangeable lenses, get to grips with the types of lenses you may need to get your desired shot. Another photographer or in-store assistant may be able to help guide you here too.
2. Find your inspiration
If you already have the impulse to take photos when the moment strikes, it's likely inspiration tends to find you – rather than you, it. Although there's no harm in creating a few parameters to help prepare you for that moment. This will also be a useful exercise for those aspiring photographers who don't know where to start.
If you have an idea of what you'd like to capture – it may be insects in nature or the hustle and bustle of life on the streets – think of the ideal conditions that you may need for your shot.
If you're after lots of natural light or big crowds of people outdoors, don't plan your shoot on a rainy day. Or if you want to capture the quiet streets of an urban environment, choosing to head out in commuter time might not be the best decision. You may need to study different environments to work out if they're right for your concept. Just make sure you bring your camera each time you do, so if a good moment comes along, you're ready to go.
If you're still a little stumped on how to discover a subject that speaks to you, you can also research the work of other photographers – famous and upcoming. What intrigues you about their work? Is it their technical skill? Or their artistic eye that captures something breathtaking? Maybe it's their ability to tell a story from behind a lens. Study some of their shots and reflect on why they excite you.
If in doubt, one of the greatest ways to find your photography calling is by getting out there and taking photos of anything that sparks your interest. It may be a thick morning fog hovering over a local lake or a loved one belly-laughing that makes you reach for the camera. Keep looking through that lens and you'll soon find what makes you tick.
3. Take a photography course
For those looking for a little more guidance, taking a photography course could be just the solution. Research local colleges and schools to see if they have any short courses going. Or if you want more freedom, there are many online photography courses out there.
In portrait photographer Rankin's BBC Maestro course, he dives into all you need to know about photography – from cameras, lighting, and lenses to getting your name out there. So if you're keen to make a dent in the photography world with your work, take a look at his course.
4. Start creating a portfolio
If you want to get your work out there and turn your passion into something more than a hobby, building a strong portfolio is a must.
A good portfolio gives the viewer an idea of who you are as a photographer. It should embody your artistic vision and show the stories you like to tell. It should also act as a visual overview of the significant projects you've worked on. The general rule of thumb for the number of photos in your portfolio is anywhere between 10 and 15.
Today, most photographers opt for online portfolios, typically a website featuring a series of photographs. These make your work far more accessible to different audiences than physical portfolios ever could. Having an online portfolio means you can showcase your images on social media feeds and you can direct people to your work far easier too.
If you're creating an online portfolio, you may want to add a small biography up front explaining who you are. And later down the line, if you're looking for commercial opportunities, it's here where you'd add a line on your professional (or relevant) experience and any awards you've won or shortlists you've made it on.
5. Build a network – in real life and online
Networking is everything in the media world. Particularly if you are starting out as a freelance photographer.
Start with building an online presence. The easiest way to do this is via a website and social media. Posting photos of your work regularly on the highly vision platform, Instagram, is a great way to start generating a bit of online traction, as it's a space people spend a lot of time on (500 million people log into the app globally every day).
So what can you do to build some traction? Begin connecting with other photographers. Search for portrait photographers, nature photographers, or whatever genre of photography you're interested in and follow, like, share, and comment on their work. If you need to build some content quickly, try setting yourself a daily challenge so you post frequently. It may be 'Day 1: Nature from my window', for example.
When it comes to networking in the real world, searching for local photography groups or attending photography exhibitions are great ways to meet like-minded people. It may be that a fellow photographer has a network you can tap into – or an opportunity they had to turn down because it isn't their specialism – that could become yours.
When attending exhibitions, you may get the chance to meet agents, curators, and other business owners who could be useful for you to know. If you have business cards, hand them out if the appropriate moment comes, and if not, encourage those willing to connect with you to follow your Instagram account or check out your online portfolio.
6. Keep photographing
Like with any discipline, the more practice you get, the better. Keep it up, and over time it's likely you'll build experience photographing many different subjects – wildlife, landscapes, people, events and more. And with more variety under your belt, the more you'll learn and grow as a photographer.
Feeling inspired to start snapping? Find a camera and go for it. It can even be the one built into your smartphone. Or if you want a little hand navigating the world through a lens, take a look at Rankin's online photography course.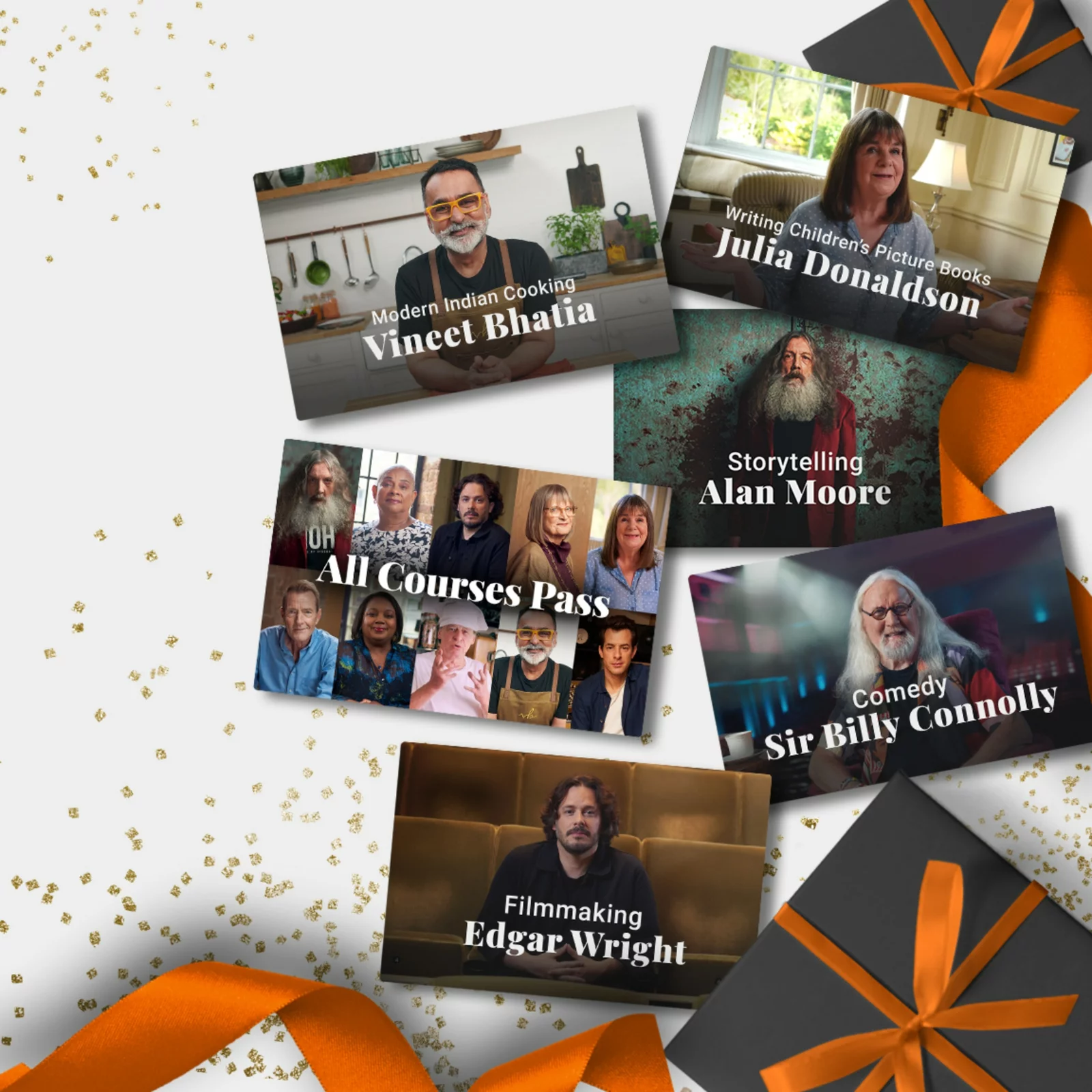 Give the gift of knowledge
Surprise a special someone with a year's access to BBC Maestro or gift them a single course.