Alan
Moore
Storytelling
Join the maestro of storytelling and learn to create mesmerising fiction by mastering inventive language, characterisation, world-building and more.
33 video lessons
Course notes
For anyone who wants to write fiction

Includes downloadable writing exercises

Self-paced, no deadlines
The Course
Alan Moore has dedicated his life to writing and now he's letting you peek in on his previously private process. This writing course will inspire you to create mesmerising fiction by interweaving language, story, character, setting, world-building and more. Let this esoteric genius inspire you to build a life as a writer and deliver your very best work.
Thanks for signing up
Check your inbox - your free lesson is on the way!
Oops! Something went wrong
Please try again later
Get started with a free video lesson
Creating credible characters with iconic writer, Alan Moore
Your Maestro
This creative writing course comes from the incessantly imaginative bestseller, Alan Moore. His writing straddles genre with comics like From Hell, The League of Extraordinary Gentlemen and Swamp Thing, and modern literary classics, including Jerusalem, a 1,266-page experimental epic novel set over centuries and realms in his hometown of Northampton.
He made it on to Time's 100 Best Novels list and has won numerous awards leading to cult-like, legendary status and critical acclaim. Each morsel of wisdom out of Alan's mouth will have you thinking in a new way.
Lessons
7 mins

Welcome to Alan's world. Where magic and storytelling intertwine, and good writing is valued over public opinion.

6 mins

Delve into the history of writing modifying consciousness from stone-age magic and the bardic tradition to you, now, typing away.

4 mins

Everybody can (and probably should) write. The first step is to develop yourself by cultivating an aesthetic and political viewpoint.

12 mins

Learn about the four classical elements you should master as a writer – coins, sword, cup and wand.

8 mins

How to read anything and everything with a critical eye and come away with learnings on effective writing techniques.

8 mins

Alan talks about mining your imagination for story gold without getting caught in a cave-in at the pit.

9 mins

Just how powerful are words? Understand how language is our foremost technology and makes up the entirety of our conscious awareness.

11 mins

Discover how writing affects the brain and how a little wordplay can spark synapses in a very satisfying way. Just ask Shakespeare.

9 mins

A consideration of the pros and cons of simple, plain English versus decorative, decadent language.

13 mins

Develop your literary ear by learning to identify and employ rhythmic elements in your writing.

9 mins

A few tips for keeping your reader engaged with innovative writing, and an introduction to the masters of literary invention.

10 mins

Get your imaginative tale in order with a three-act structure and the perfect narrative format for your story.

8 mins

Alan talks about getting to know the tropes of different genres so you can mix them up and break the rules.

11 mins

Witty, horrific, satirical? Past or present tense? First or third person? With a slight shift you can change everything.

8 mins

Explore how time passes within the narrative and in the process of reading as well as how to employ pace, comedic timing and time travel.

14 mins

How to delightfully deceive and betray your readership and have them thank you for it.

20 mins

Inhabit your characters with conviction to convince your readers they are real people. Here's how.

16 mins

How to make fantastical, impossible, detestable, reprehensible characters realistic and relatable.

18 mins

Learn about how place will help you develop your story and the psychology of your characters.

15 mins

Tips for creating new worlds, including a close-up look at how Alan built Neopolis from the pavement up.

17 mins

Using memories, historic details, speech and slang to immerse your readers in the time of your story.

7 mins

Comics, screenwriting for film or television, novels, theatre, poetry, song-writing – a lot of writing skills can be used across disciplines.

23 mins

'The Orson Welles of comic books' (The Times) tells the truth about the comics industry and the extraordinary power of comics as a medium.

23 mins

Acquiring a cinematic vocabulary helps you write for film and television and learn skills for all types of writing. Here's where to start.

12 mins

See how writing for music is a great way to practice metre and rhythmic language, while performance gives you invaluable immediate feedback.

5 mins

Looking ahead to writing and creating new worlds for virtual reality stories. What possibilities of consciousness might that bring?

8 mins

Don't get stuck in a rut. Alan talks about mixing up your writing, trying new things and dipping a toe in the avant-garde.

5 mins

A look at literary innovators like Sterne, Woolf and Proust and how what was once radical has become part of the writer's everyday tool kit.

10 mins

Techniques you might want to try in your experimentation of progressive writing methods and interesting speculative fiction ideas.

14 mins

A small warning about going too far and tips for creating progressive writing that is still entertaining and accessible.

3 mins

How far writing has come, where it could go next and how you, as a writer, are joining a transformative human tradition.

4 mins

Everyone can write; everyone should write. Alan shares a story about an atypical storyteller.

3 mins

A new word coined just to say goodbye, fare well and send you on your merry way to write a better world.
Start learning today
Change or cancel your subscription at any time
Learn without limits on your computer, phone or tablet
Download course notes and exercises to learn at your own pace
Change or cancel your subscription at any time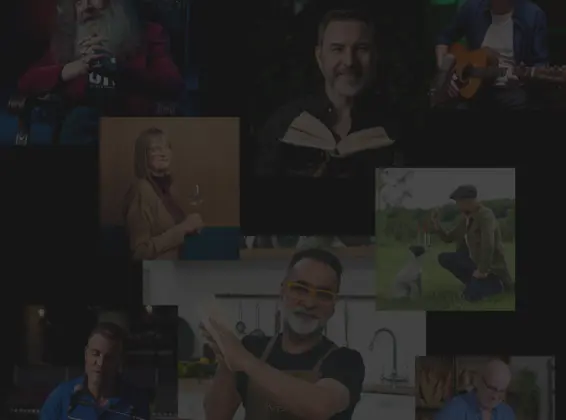 Annual access
10-days free then $10 / month
(Billed annually as $120)
---
Discover new passions with access to every BBC Maestro course
Enjoy over 100 hours of video lessons every year
Explore all brand new courses added throughout the year
Receive discounted rates to purchase your favourite courses to own for life
Start 10-day free trial

Course notes
51 pages
Master literary techniques and turn your wildest thoughts into fantastic fiction.

What people are saying
I've learned more about the craft of writing from Alan Moore than from any other human alive. This is really exciting. He's teaching an online BBC Maestro class.

- Neil Gaiman
Alan Moore has an idiosyncratic way of imparting writing knowledge that captivates and delights, as well as informs. Loving every minute of it.

- Varda Tully
Wonderfully motivating, entertaining and useful, delivered with originality, humour and depth. Thank you Alan Moore for a great course.

- Anon
Alan Moore is a hero to me. I suspected this might be a bit patronising and rubbish. It's really not. Academically sound and in depth. Recommended

- Graham Robertson
Mr. Moore is clear, thorough, and easy to listen to. The content is very helpful and interesting so far.

- E. Cross
I sincerely love everything about this course. Mr. Moore, the production value, the atmosphere, the set, the lessons... Everything. I even love Mr. Moore's fashion sense.

- Michael Zaccagnino
I am only about halfway through the course at this moment. It has met and exceeded my expectations. The vast amounts of knowledge distilled through the mind and presented by Mr. Moore is well worth the cost to an aspiring author and artist such as myself.

- Antanas Bulota
I'm twenty lessons deep into this course, and I have to say this — I haven't had this much fun in ages. His view on writing has rekindled a dying fire - I. Want. To. Write. Again.

- Anon
The @bbcmaestro #AlanMoore writing/storytelling course is turning out to be one of the most enchanting things I've had the pleasure of listening to in what feels like a cursed eternity. Hail Glycon!

- Eddie Ruminski
VERY happy to report this Alan Moore [BBC Maestro course] is the real deal. I'm a handful of chapters in and it is everything this life long fan and educator could have wanted from it.

- Brian Michael Bendis
What an extraordinary man, thinker, writer, and most important, teacher! [...] I'm only halfway through, but I think I'm a better writer this week then I was last.

- Bob Zaslow
I just finished the course, and I'm sad to see it end. This is a remarkable journey from start to finish — I would highly recommend this course to everyone. Thank you to Alan Moore and @bbcmaestro !

- Anon
I'm really enjoying Alan's course. He has opened my eyes in terms of what story and writing have the potential to be. His examples and literary text references are exceptional. This is a man who is passionate about our language and using it to change our consciousness and perception through story. Thank you Alan and BBC Maestro.

- Trevor Howis
I've bought this. It is BRILLIANT. The way he gets his lessons across is truly magical! And he's hilarious. If you are even just considering getting it, DO IT!

- Anon
One of the best courses I ever had. The presentation not only was so interactive, but the types of writing also presented were mindblowing. The stories presented were so valuable I couldn't take my eyes off it. Simply said it's amazing.

- Dan
One of the most helpful and easily the most fascinating writing course available. Regardless of where you are in your writing career, if you're serious about writing, Alan Moore's course is a must.

- Jon Etter
Common questions
BBC Maestro is a subscription-based streaming platform, created to educate and inspire people to explore their creativity. Through pre-recorded lessons and detailed course notes, anyone can learn a wide range of disciplines and follow in the footsteps of experts respected all over the world. BBC Maestro offers single course purchases or an annual subscription.
Everything. Access to all courses, course notes, the BBC Maestro app, and the ability to download courses to watch on the go.
You'll need to provide an email address, password, and bank card details to create an account, but no payment will be taken until the trial has ended. A trial lasts 10 days from the point of sign up. After 10 days, we will automatically take a payment of $120 to start your annual subscription. You can cancel your trial at anytime in your account settings. You'll have access to easy-to-follow video lessons. Watch on your computer, tablet or mobile and learn on demand, wherever and whenever you like. Our courses are beginner-friendly and you can watch as many times as you like, at your own pace. Terms for the free trial can be found here: https://www.bbcmaestro.com/freetrial-terms
You can buy an annual subscription to get full access to all BBC Maestro courses, lessons and course notes for one year. You can enjoy over 100 hours of video lessons and your own pace and watch as many times as you like. You'll also have access to any new courses added throughout the year.
Yes, all our courses have English subtitles that can be accessed by clicking the CC button on the video player. We also have downloadable PDF course notes to go with each course, which offer more detailed information and tips.
No, all our courses are self-paced and no courses will be removed from the site or 'expire'. If you have an all-access annual subscription, you can watch any content while your subscription is valid. If you don't have an all-access subscription, but instead have bought one or more individual courses, the purchased content is yours to keep for life, and lessons can be watched as many times as you like.
Subscribers will have instant access to new courses as they are released. Please note that any courses in the Upcoming Courses section may be released outside of your annual subscription period. If you have any questions about an upcoming course, please email [email protected].
We offer a 14-day money back guarantee for your first all-access annual subscription, if you aren't completely satisfied with your purchase. See our terms and conditions for details, or email [email protected].
Thanks for signing up
Check your inbox - your free lesson is on the way!
Oops! Something went wrong
Please try again later
Get started with a free video lesson
Creating credible characters with iconic writer, Alan Moore