A guide to comic book styles
By BBC Maestro
Last updated: 21 February 2023
As with any other type of literature, there's a vast range of different comic book styles. From adventure to comedy and from fantasy to horror comic books, there's something to suit every reader – and every type of writer.
But how do you know which one to use for your own comics? Here's our definitive guide on types of comic book styles to help you choose which one is right for you as a writer.
Styles of comics
If you're new to the world of comics, you might hear 'comics' and think 'superheroes'. And of course, there are plenty of great superhero comic books out there – but that's far from the only style of comic.
If you're keen to write a comic, you'll be pleased to know that there are myriad different styles to choose from. It's just a case of choosing the one that's right for your story.
Superhero comics
Let's start with superhero stories since they're so strongly associated with comic books. Superman first arrived on the scene in 1938 in Action Comics #1, which led to what's known as the Golden Age of superhero comics in the 1930s and '40s. During this time, comics featuring Batman, Captain Marvel, Captain America and Wonder Woman all hit the shelves.
In the decades since, many more popular superhero comics have appeared, including Spider-Man, Thor, Iron Man and the X-Men. Superhero stories invariably focus on the battle between good and evil, with an arch-nemesis villain.
However, from the 1960s onwards, the characters began to become more complex and multi-faceted. Eventually, the superhero genre began to be subverted – most notably in Alan Moore's Watchmen, which is a deconstruction of the traditional characters, storylines and tropes of the superhero universe.
Adventure comics genre
Adventure comics follow the escapades of a hero or heroine and are usually based in the real world rather than fantasy, science fiction or superhero settings. This means that adventure series can be dynamic, as they're not bound to any one setting, and with the same adversaries each time. Instead, the protagonist can travel the world, experiencing different locations and fighting off new, multi-dimensional villains in each one.
One of the most enduringly popular adventure comic characters is Doc Savage, who first appeared in the 1930s and 1940s. Also known as Clark Savage Jr, Doc Savage is a doctor, adventurer, scientist and detective who "rights wrongs and punishes evildoers".
A more modern comic book adventure hero is Scott Pilgrim, the graphic novel series of which was later developed into a successful film starring Michael Cera as the titular character. Scott Pilgrim is a part-time musician who falls in love with Ramona Flowers – but before he can date her, he must defeat her seven evil exes. Scott is the perfect adventure comic hero: just an ordinary guy who must do something extraordinary to defeat obstacles in the way of achieving his goals.
Fantasy comics
Fantasy comics are typically set in worlds other than earth, or feature science fiction elements. The words and art combine for epic storytelling. Art styles vary wildly in fantasy comics, from realistic depictions of people and places to cartoonish drawings.
Neil Gaiman's The Sandman is one of the most famous examples of a fantasy comic. A dark fantasy that follows the main character Dream and explores several themes including the necessity (and dangers) of dreams, and the power of stories, The Sandman is one of the most successful graphic novels ever. It's inspired myriad other stories since its original publication between 1989 and 1996, both comics and novels alike.
Horror comic books
Comic books – as a visual medium – are perfect for visceral horror stories. More than novels, they can truly showcase the ghastliness and terror of the subjects and victims.
One of the best examples of the horror comic book style is The Swamp Thing. Part human, part plant, the Swamp Thing has an enduring appeal that's seen him through numerous iterations, from his first appearance in 1971, through the 70s and 80s where Swamp Thing stories were written by Alan Moore, Stephen Bissette and John Totleben.
The Swamp Thing series gave rise to another classic of the genre: John Constantine, Hellblazer. Created by Alan Moore and Stephen Bisette, Hellblazer is a dark series that follows John Constantine who takes morally questionable actions in his pursuit of good. The series is notable for its socio-political commentary, as well as its dark and edgy themes that combine the supernatural with real-life horror.
Thriller comics
Thriller comics are all about suspense and gripping stories that will have you glued from the first page to the last.
Alan Moore's From Hell is one such example of a suspenseful thriller. It's focused on Jack the Ripper, a serial killer who's captured the public's imagination ever since his Whitechapel murder spree in the late Victorian era. Despite the case being well-known, the comic manages to be thrilling through great storytelling and borrowing from other genres.
Comedy comics
Comic books don't all have to be about alternate universes and superheroes, telling thrilling stories or scary tales. They can also be funny. After all, the name 'comic' comes from the same root as 'comedy'.
Often, comedy comics depict a 'slice of life', such as in Daniel Clowe's Ghost World, which is a darkly comic tale that follows two teenage girls in their everyday life, as they criticise the people and places they encounter wandering around their small American town.
Mystery comics
From murder mysteries to detective stories, mystery comics are enduringly popular. After all, who doesn't like getting to the bottom of an apparently unsolvable situation? Mystery comics allow us to follow along with the action and play the role of detective – without getting into any of the danger ourselves.
Paper Girls is a good example of a mystery comic. Following four 12-year-old newspaper delivery girls who get caught up in an invasion from mysterious time travellers, the comic has been praised for its artistry, story, and fresh take on the mystery genre.
How to choose your comic book styles
There are so many different types of comic book styles to choose from – so how do you choose which genre to work within?
Alan Moore, in his BBC Maestro course on Storytelling, suggests choosing a genre you've read widely:
"You should always go with a genre that you know something about. Say for example that's the crime genre, then you'll be well acquainted with all of the aspects of crime drama, you'll know all of the cliches. You'll know all of the little things that occur in most detective stories, so you can play against them. You can do the exact opposite, and bend genre, and you can break genre."
That's not to say that you're stuck working in one genre forever – and it certainly doesn't mean that, once you choose a comic book style, you have to work within the confines of that genre.
Many of Alan Moore's comics blend different genres, and he suggests that, as you get more comfortable and more experienced in writing, this is something you can do too.
"However, at some point, you might want to move beyond genre into something that more resembles real life. At that point, when you've matured as a writer, why not try mashing all of the genres up together in the way that real life actually works?"
After all, real life is rarely all drama, all romance, or all mystery. Everyone's lives – and everyone's stories – happen within multiple genres simultaneously. If you want to write comics that resonate with your readers, then you might want to experiment with blending different comic styles to create a multi-faceted world. That's where you'll find the magic. As Alan says:
"I would say that there's a lot to be had in trying to remove the perimeter fences of genre and rewilding the fictional landscape, letting all of these things play freely with each other, and to wander into each other's territory."
Ready to get writing the next Watchmen, Batman, or V for Vendetta? You'll find lots of inspiring tips and advice on all things comic book structure, character and plot in Alan Moore's BBC Maestro course. And should you need any more inspiration, take a look at our other online writing courses from the very best writers working across different genres today.
FREE video lesson: Creating credible characters
with iconic writer, Alan Moore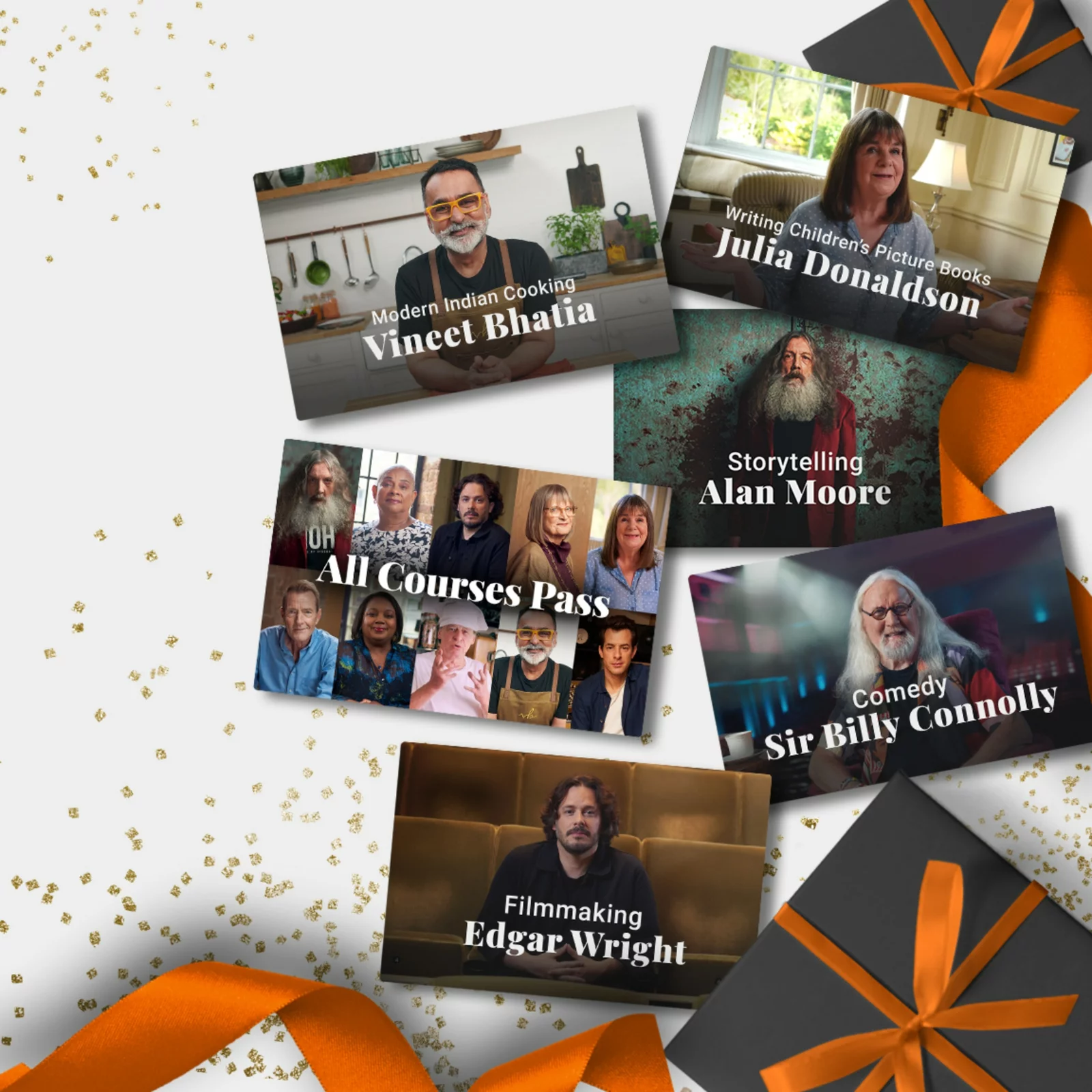 Give the gift of knowledge
Surprise a special someone with a year's access to BBC Maestro or gift them a single course.