5 of the best books on writing poetry
By BBC Maestro
Last updated: 13 March 2023
We all need inspiration from time to time, particularly when it comes to taking up a creative endeavour like writing poetry.
In this article, we've rounded up a list of the best books on writing poetry to help you kickstart your poetry writing journey or spruce up your current practice.
5 books on writing poetry
You may be waiting for that spark of inspiration to hit. Or perhaps you're yearning for some solid guidance on how to structure your next poem. Whatever it is that's brought you here – you certainly aren't alone.
Plenty of poets have sought to identify the perfect conditions for a new idea to strike or attempted to create a winning formula to ace the writing process. And luckily, many of them have decided to share their learnings to help poets like you thrive.
We've rounded up 5 popular books on writing poetry to help address some of the challenges below.
1. A Poetry Handbook by Mary Oliver
If it's some gentle beginner's guidance on how to write a poem you're after, Mary Oliver should be able to provide you with what you're looking for with this useful handbook.
Here you'll find her breakdown of poetry's basics – from different poetic forms and language techniques to practical tips on the creative process – like the importance of workshopping your pieces and the value solitude can bring to your writing too.
The latter is something many poets swear by, including Carol Ann Duffy. "I've learnt to value silence. I've learnt to value thinking, reading, contemplating, rather than rushing straight to the blank page," she says in her BBC Maestro poetry course.
2. Answering Back: Living poets reply to the poetry of the past ­edited by Carol Ann Duffy
If you're looking to kick a creative block, this anthology by the former Poet Laureate might just do the trick. It features a selection of popular modern-day poets (like Simon Armitage, Seamus Heaney and emerging poets like Helen Mort, to name a few) responding to certain works of classic poets (think Wordsworth, Shakespeare and Tennyson).
Each poet was tasked with choosing any poem that compelled them in some way and responding to it with one of their own. Some of the works are clearly direct responses to the themes and ideas presented in the original poems whilst others are more subtle and offer a new perspective. It's an exercise that can really help stir up some inspiration to write, and it's one that Carol Ann Duffy tasks viewers of her online poetry course to do too.
3. The Practising Poet: Writing beyond the basics by Diane Lockward
Whether you're working on your second anthology, or this is the first time you're coming to the pages, Lockward's The Practicing Poet is the perfect companion for poets of all levels.
In this poetry book, you'll find ten sections that break down different parts of the writing process. From helping writers generate their own ideas and tackling the editing process to getting your work published, it contains practical advice for each stage of the journey you can bring to your work – whether it's love poetry, dark poetry or another genre that excites you.
4. How to write poetry: A guided journal with prompts by Christopher Salerno and Kelsea Habecker
Hungry to get writing immediately? Packed with writing prompts and exercises, Salerno and Habecker's book should have you writing from the moment you pick it up.
The workbook encourages writers to crack open their creativity – prompting them to assess rhyme and meter, language and form in innovative ways in the hope to craft something compelling. If you're a beginner, it's a great guide to help you get into the habit of writing regularly. And for those poetry experts, it may help provide a new framework to inspire your next great idea.
5. The Poets Companionship: A Guide to the Pleasures of Writing Poetry by Kim Addonizio and Doiranne Laux
For those poets who need a confidence boost from time to time, this book may well be your new trusty companion.
Expect to come across a range of brilliant essays on all things poetry, like forming exciting ideas and navigating classic poetry techniques. At the same time, many appreciate this book for its comforting approach to the entire writing poetry process – acknowledging the inevitable self-doubt, the challenges of writing in a hyper-digital era and the forever rocky stability of a writing career. Even better – it encourages you to tackle it all at your own pace too.
Even if you have no idea where to start, hopefully, there's something in here to help get you going. Remind yourself of the reasons why writing poetry interests you. Maybe you're looking for a new way to express your thoughts and ideas, or you feel you have something important to say.
If so, remember the words of Carol Ann Duffy, "the poet must feel that they have something to give," says Carol Ann. Keen to learn more? Take a look at her BBC Maestro course, Writing Poetry.
FREE video lesson: Use the world around you as inspiration
with poet, Carol Ann Duffy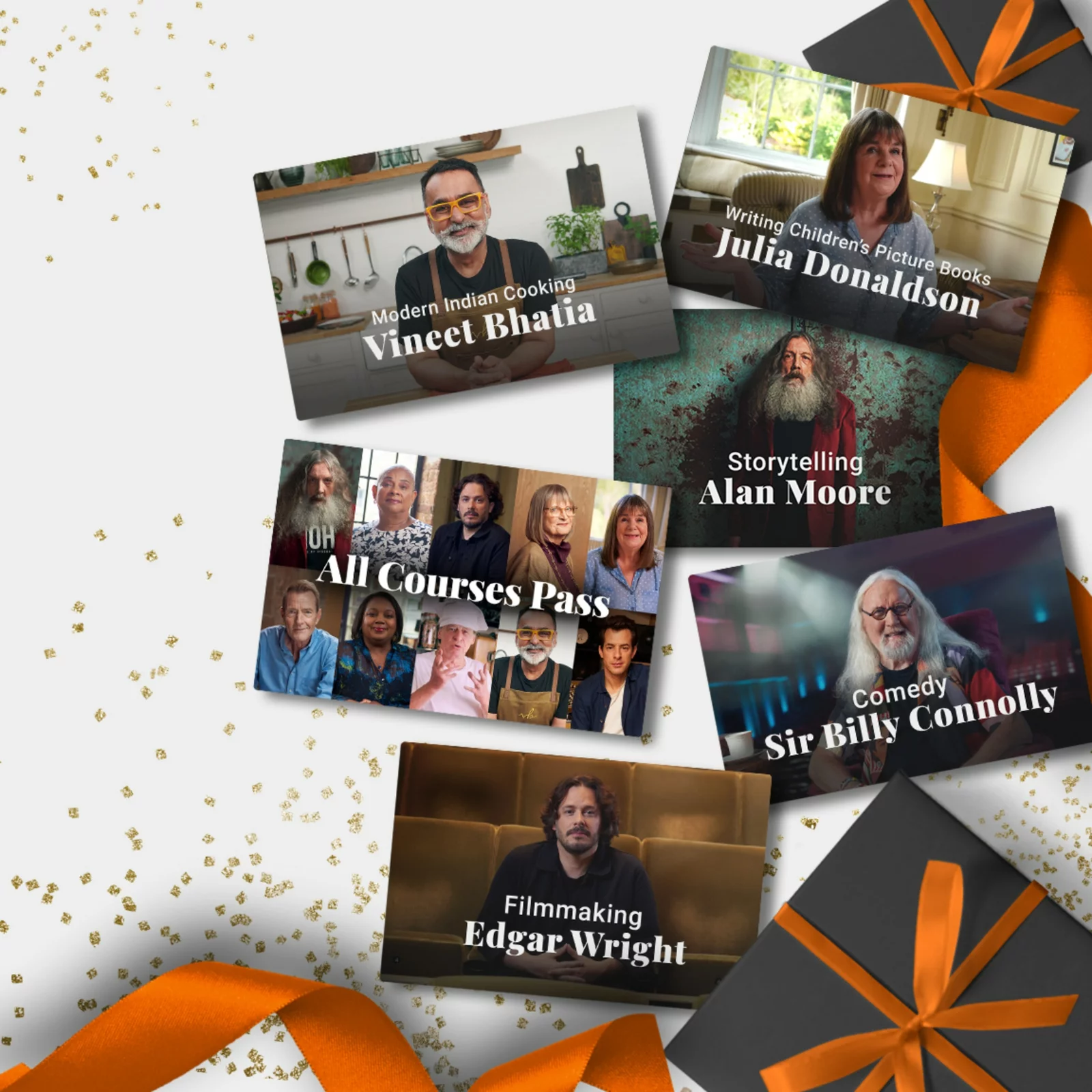 Give the gift of knowledge
Surprise a special someone with a year's access to BBC Maestro or gift them a single course.